IRS forms show charity's money isn't going to disabled vets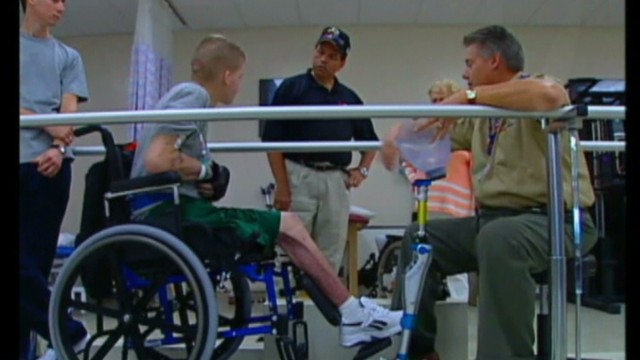 What did vets charity do with $56M?
Birmingham, Alabama (CNN) -- A national charity that vows to help disabled veterans and their families has spent tens of millions on marketing services, all the while doling out massive amounts of candy, hand sanitizer bottles and many other unnecessary items to veteran aid groups, according to a CNN investigation.
The Disabled National Veterans Foundation, based in Washington, D.C., and founded in 2007, received about $55.9 million in donations since it began operations in 2007, according to publicly available IRS 990 forms.
Yet according to the DNVF's tax filings with the IRS, almost none of that money has wound up in the hands of American veterans.
Instead, the charity made significant payments to Quadriga Art LLC, which owns two direct-mail fundraising companies hired by the DNVF to help garner donations, according to publicly available IRS 990 forms.
Those forms show the charity paid Quadriga and its subsidiary, Brickmill Marketing Services, nearly $61 million from 2008 until 2010, which was the last year public records were available.
The independent group CharityWatch gave the DVNF an "F" grade. More than 30 veterans charities were rated by the independent group by the amount they spend on fundraising compared to actual donations, and two-thirds were given either a D or F grade, according to CharityWatch president Daniel Borochoff.
"Up to $2 billion is raised in the name of veterans in this country and it's so sad that a great deal of it's wasted," Borochoff said. "Hundreds of millions of dollars of our charitable dollars intended to help veterans is being squandered and wasted by opportunists and by individuals and companies who see it as a profit-making opportunity."
WEWS: Suspect accused of stealing millions through phony veterans charity
On its website, the DVNF posted a "news bulletin" announcing that the charity had sent badly needed goods "by the truckload" to veterans centers in Birmingham, Alabama, in the wake of last year's devastating tornados.
DVNF specifically cited a small veterans charity called St. Benedict's. But the charity's executive director said most of the donations from DVNF could hardly be classified as "badly needed."
"They sent us 2,600 bags of cough drops and 2,200 little bottles of sanitizer," J.D. Simpson told CNN. "And the great thing was, they sent us 11,520 bags of coconut M&M's. And we didn't have a lot of use for 11,520 bags of coconut M&M's. "
Simpson said the DVNF also sent him more than 700 pairs of Navy dress shoes, which he said he can't use. He has put them up for purchase at a yard sale.
In its tax filings, the DVNF also claims to have sent millions of dollars of so-called "Goods In Kind" to smaller veterans-related charities around the nation.
In one instance, the DVNF claimed more than $838,000 in fair market value donations to a small charity called US Vets in Prescott, Arizona.
CNN obtained the bill of lading for that shipment, which showed that, among other things, hundreds of chefs coats and aprons were included in the delivery, along with a needlepoint design pillowcase and cans of acrylic paint. The goods listed in the two-page shipping document were things "we don't need," a US Vets spokesman said. And at the bottom of the bill of lading, the DVNF itself estimated the value of the shipment at around $234,000 -- significantly less than the $838,000 it reported to the IRS.
CNN has attempted to get a comment from the DVNF for more than a year, but has received no specific replies, even after submitting several questions in writing.
When approached by a CNN crew at the Veterans of Foreign Wars hall in Baton Rouge, Louisiana, Disabled National Veterans president Precilla Wilkewitz rebuffed questions.
"Well, this is the Veterans of Foreign Wars and I really didn't think you'd do something like this and we've agreed to talk to you ... answer your questions," she said, standing in the entranceway to her office.
Wilkewitz is the former national legislative liaison for the VFW, which is not directly tied to the Disabled Veterans National Foundation.
She said she would answer questions only in writing, but so far CNN has received no response.
When asked about Quadriga's relationship with DVNF, spokesman Ron Torossian told CNN in an e-mail that the company is privately owned and "we do not discuss specific client relationships." But according to IRS filings, Quadriga has been paid for direct-mail services by DVNF since the charity was founded in 2007.
Torossian did say in his e-mail, "At times, Quadriga chooses to invest money in partnerships with non-profit organizations. Sometimes it is a successful business venture, while others it is not."
In a subsequent e-mail, Torossian said Quadriga had lost $7 million investing in veterans nonprofit organizations.
When CNN asked whether that included the Disabled Veterans National Foundation, he said "your facts remain woefully inadequate," but he declined to elaborate in a later e-mail exchange. He also threatened to sue CNN on behalf of Quadriga.
At the small house in Birmingham where J.D. Simpson operates St. Benedict's, he said his main goal is to provide beds to homeless and disabled veterans.
He characterized the DVNF operation in harsh terms.
"I ask myself what the heck are these people doing stealing from our veterans. because that's what they are doing," Simpsons said. "I don't care how you look at it. These people have sacrificed for our country. And there are some people out there raising money to abuse 'em and that just makes me mad."
Watch Anderson Cooper 360° weeknights 10pm ET. For the latest from AC360° click here.
Thanks,
Tony Burkhart
The Mozilla project is a global community of people who believe that openness, innovation, and opportunity are key to the continued health of the Internet.